♦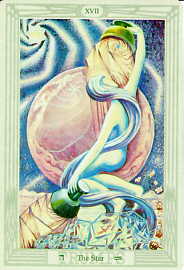 All readings are read with Aleister Crowley's Thoth Deck.
Anavid offers six different readings:
Before each reading, Anavid calms and clears her mind in order to make room to allow the higher force to guide her before she shuffles and lays out all of the cards. This process is then repeated before she chooses the cards for each spread.
After every reading, Anavid lights Shanti Vana Incense to clear out, remove and neutralize energies so as not to entangle with the next reading.
Shanti Vana Incense is made in India and shipped from The Self-Realization Fellowship Headquarters in California, founded by Paramahansa Yogananda, author of Autobiography of a Yogi.
All readings are relayed in text via email, and come with a photograph and title of the cards drawn.
* All readings are strictly confidential *
"Peace emanates from the soul, and is the sacred inner environment in which true happiness unfolds." -- Paramahansa Yogananda
♦